Oyster Blade and Capsicum
13/09/2020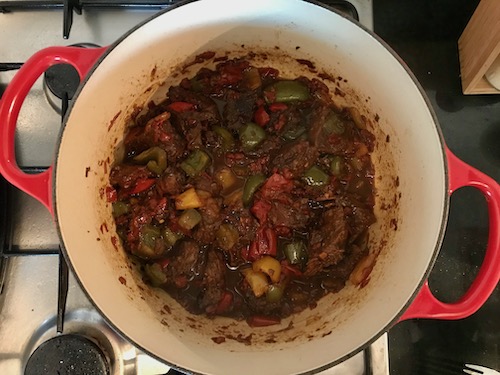 Ingredients
4 tablespoons of kecap manis (thick kind)
Olive oil
500g oyster blade or sukadelap or blade steak
1 medium onion diced
500g capsicum or bell pepper or sweet pepper. Half diced, half roughly chopped.
4 cloves of garlic
salt and pepper
Steps
high heat.
brown beef and remove from pot.
medium heat.
add onion and diced capsicum and cook until softened ~3min.
add garlic and cook for ~1min.
season.
return beef to pot.
add kecap manis and mix.
add a little bit of water if needed.
slow cook in the oven at 100 celsius ~1-3 hours until beef is tender.
add the rest of the capsicum and cook for further 30 minutes or until sauce is reduced.
serve on rice.